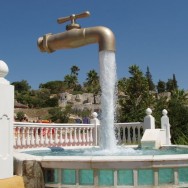 This paper comprises a series of observations and recommendations made by the WASH Cluster Coordinator[2] in Haiti during the earthquake response of 2010. It is a personal reflection which neither represents nor endorses the views of UNICEF as Global Cluster Lead Agency for WASH nor any members of the WASH Cluster per se. It is intended as a constructive contribution to the debate now taking place between Global Cluster Lead Agencies, OCHA, and the IASC over how best to resolve the challenges still facing implementation of the Cluster Approach following findings of the IASC's Phase Two evaluation, and from which it takes its frame of reference. It is informed by direct experience of applying the Cluster Approach in Pakistan (earthquake, flood), Indonesia (Yogyakarta earthquake), Bangladesh (cyclone Sidr), and Georgia (South Ossetia crisis).
CONTEXT
The Haiti earthquake response was unprecedented in many ways yet exposed pre-existing fault lines in application of the Cluster Approach which had become increasingly apparent through the four year 'roll-out' period (2006-2009). Factors peculiar to Haiti included:
a. Language: Creole is the official national language, yet French language skills became the overriding criteria for staff selection
b. Military-Civil interface: Initial logistics support was almost exclusively provided by the US military for the US military. When civilian humanitarian planning capability was deemed to be "weak" by military commanders in theatre, this, too, was taken over by the military
c. Scale of need: Numbers displaced by the primary or secondary effects of the earthquake, at 3 million or more, were similar to the Kashmir earthquake in 2005. However, mortality was three to four times higher than Kashmir, at 220,000+.
d. Urban context: The affected areas were mostly urban. Not just were the damaged and collapsed buildings mostly made of concrete, but population density was among the highest in the world.
e. Pre-existing situation: With access to improved sanitation at 27-32%, the population of Port-au-Prince (3 million+) had one of the worst sanitation situations of any capital city in the world. Furthermore, the situation was actually getting worse. For example, there was no sewage network in the entire city, nor any sewage treatment plant.
f. Access: Being in the Caribbean, and within easy access to the Haitian diaspora and other well-wishers in the US, over 4,000 small volunteer groups flocked to Haiti in the immediate aftermath of the disaster. While well-meaning, these largely amateur groups required unprecedented levels of support from the coordination system.
g. Media: In the absence of coherent and consistent messaging from the UN humanitarian system, a partial, sensationalist, and celebrity obsessed media skewed the messages about what was happening in the early stages of the response, thereby inadvertently affecting funding allocation decisions.
h. Capacity: Many of the UN and government decision-makers were killed in the earthquake, with much of the infrastructure destroyed.
Previous lessons 'un-learned' suggest that successful application of the Cluster Approach – at least for rapid-onset disasters in the field – depend ultimately on the extent to which:
a. NGOs and survey teams are prepared to share their information in time for it to be useful for others
b. All stakeholder groups, but particularly donors, engage in formulating Cluster strategies and are prepared to adapt their programmes and/or funding strategies accordingly
c. Humanitarian Coordinators and the Heads of Cluster Lead Agencies that comprise the Humanitarian Country Team are held accountable to a clearly defined set of performance expectations
d. Inter-Cluster coordination is consistently and coherently managed by the Humanitarian Coordinator, with the facilitation of a dedicated focal point (not the Head of Office) within OCHA
e. Clusters engage with, transfer skills and capacities to, but remain distinct from, Government counterparts
f. Cluster Coordinators are 'empowered' to act independently of 'parent' Cluster Lead Agency affiliation
g. Cluster coordination teams are 'enabled' to carry out their functions
h. UN agencies rapidly 'pass through' funds to NGO partners during emergencies
i. Independent, relevant, robust, and timely monitoring of evolving needs, outcomes and impacts of Cluster actions are carried out in real time
EXECUTIVE SUMMARY
While the 'humanitarian reform' process has enhanced funding predictability and, to an extent, accountability at global level, the Haiti experience proves once more that the Cluster Approach is not adding the value that it could and should in terms of impact, partnership and country level accountability – the other essential 'drivers' underpinning humanitarian reform.
5. As an 'approach' it has produced neither the synergies, the economies of scale, nor the institutional reform needed to improve significantly the efficiency and effectiveness of humanitarian action to the extent envisaged by its original architects. As a result, key stakeholders, including donors and the non-governmental community, are not engaging as proactively in the process as they might.
6. Arguing that they are the ones ultimately 'accountable', heads of UN agencies at country level find it difficult to delegate the required levels of authority to Cluster Coordinators who, because of their 'parent agency' affiliations, cannot act as 'honest brokers' or 'neutral facilitators', and are discredited and disempowered as a result.
7. The "docking" of in-coming emergency coordination teams remains problematic for existing development-oriented staff in established country offices. Power relations within an existing office need to change fundamentally during relief operations, and the operational support services required to 'enable' Clusters to function have to re-gear to meet these changing priorities.
8. Too many Resident and/or Humanitarian Coordinators continue to manage emergency response through traditional mechanisms as if Clusters – or, rather, the collective and consensual approach which 'Clusters' embody – only partially exist. Humanitarian Coordinators should engage regularly and proactively with those who coordinate Clusters and representatives of key stakeholder groups through Humanitarian Country Team (HCT) mechanisms and not the UN Country Team which has a wider and more developmental remit. Cluster Coordinators as well as other non-UN stakeholders should always be present at such meetings[3] to 'advise' their respective Cluster Lead Agency heads and ensure independent messaging is not diluted or unintentionally misinterpreted.
9. Donors are, for the most part, not consistently adhering to their own principles of 'good humanitarian donorship' as outlined in the Paris Declaration and Oslo Accords, and continue to "cherry-pick" both projects and partners in line with their own interests with minimal, if any, reference to Clusters. Those donors who do fund 'through the clusters' need to define what this means and how it should be done with efficacy and transparency.
10. Neither 'coordination' as a legitimate management science, nor the 'Cluster Approach' as the latest expression of humanitarian reform and enhanced partnership have been given the status they deserve, especially by the UN agencies. As a result, the level of human, financial, and material resources required to sustain coordination management mechanisms continue to be under-estimated – especially for information management services. This 'Cluster Lite' mentality is exacerbated by a failure to include costs for all aspects of the Cluster lifecycle into emergency appeals.
11. With the exception of the 'tri-Cluster' initiative[4], trainings and orientations to the Cluster Approach have been designed by each Global Cluster Lead largely in isolation of one another. The resulting fragmentation has resulted in confusion at field level as the different interpretations that have inevitably resulted have been variously applied; a situation exacerbated by the near total absence of skills upgrading to Heads of Cluster Lead Agencies at country level who continue to selectively interpret their 'Cluster' mandate. Minimum capacity requirements should be established for an agency to lead a Cluster at the country level, and minimum qualifications, including professional accreditation, should be developed for people who work as Cluster Coordinators.
OBSERVATIONS, CHALLENGES AND POTENTIAL SOLUTIONS
12. The observations, challenges, and potential solutions that follow are both 'systemic' — i.e require higher-order change at senior management level — and more 'functional' — i.e can be implemented for negligible additional marginal cost at field level with comparatively minor changes of approach.
OBSERVATION 1: Donors and Heads of Cluster Lead Agencies remain unaware of the true costs of coordination, including the opportunity costs of poor coordination
13. According to OCHA, more than sixty-six million dollars – and perhaps double that sum – has been spent on reforming humanitarian coordination since inception of the Cluster Approach in January 2006. Unfortunately, this investment is not reflected at country level where all the complex management arrangements of coordination are not fully costed into appeals documents.
14. In part, this is because of confused interpretations of what constitutes 'cost' versus 'investment'. Either way, lack of awareness at field level as to the level of human, financial, and material resources required to actually establish and maintain coordination mechanisms in the Capital, let alone at field 'hubs' located closer to the affected populations, has fostered a mentality of "Cluster Lite" where one or two people, sometimes while still doing their 'day job', are expected to act as coordinators and information managers.
15. But one of the largest costs of emergency response coordination is that bit spent assessing performance in real time, learning lessons during and after the event which can be worked in to contingency planning for the next crisis and then used as a springboard for building local capacities – preferably under an overall disaster risk reduction strategy. The costs for the entire emergency preparedness and response cycle – especially in countries at risk of repeated 'cyclical' weather-related disaster – should be included into Flash Appeals. As they are indirectly 'life-saving' in nature, CERF applications should also consider such 'on-cost' more consistently.
OBSERVATION 2: Language barriers continue to constrain operational effectiveness and inclusivity
16. Internationally-recognized good practice guidelines for disaster response stipulate the inclusion of the affected population into the policy formulation and operational decision-making process. Yet every recent evaluation of external humanitarian assistance specifically cites the language barrier as one of the major constraints to achieving this: The very people who know their needs best become disenfranchised because they cannot communicate properly with the international aid community that has arrived to support them. International humanitarian agencies, including the United Nations system, recognize the problem, acknowledge the need, and are increasingly asking for provision of language services. Recent relief operations in Kyrgyzstan and Haiti are the latest examples of this, where lack of Russian and French language skills respectively once again negatively impacted on the effectiveness of the international relief effort. With so many partner organizations working in Haiti continuing to use English in meetings even into August (i.e six months after onset of disaster), the solution is not to insist on using French[5] – which limits the pool of appropriate talent – but to offer simultaneous translation as a common service.
OBSERVATION 3: The means by which, and standards to which Cluster Lead Agency's and Humanitarian Coordinators are held to account are unclear
17. Humanitarian Coordinators and Cluster Lead Agency's (CLA's) selectively apply aspects of the Cluster Approach arguing that the "context" of their particular situation requires this. Frequently and unfortunately, this partial adoption leads to confusion, delay, less effective delivery of aid, and, most importantly, increased and needless suffering of the affectees. Accountability frameworks must be explicit – not left implicit, as is the situation now – by the Executive Directors of UN agencies first agreeing together, and then issuing 'strategic direction' to their country level representatives on how the 'lead' role is to be interpreted under the Cluster Approach. This 'interpretation' will need to include a set of minimal operational standards of performance against which results can be assessed.
18. As the SPHERE revision process is not addressing this area, the IASC should establish a high-level working group to draw up a list of optimal operating standards (SOPs) against which both RC-HC's, (Humanitarian) Country Teams, and heads of CLA's can be held to account by their peers, their Cluster members, and their regional line managers. Typical questions that's such standards might address include:
¨ Has an appropriate inter-cluster coordination mechanism been established to the satisfaction of all Cluster Coordinators?
¨ Did the Humanitarian Coordinator ensure proper integration of cross-cutting issues?
¨ Was the Cluster Coordinator sufficiently independent of his/her parent agency?
¨ Were minimum professional qualifications for coordinators recognised and applied?
¨ Did the CLA act as just one equal 'client' of the Cluster?
¨ Did the CLA request an evaluation and/or performance assessment of its Cluster in real time (i.e with 6-8 weeks of onset) and then attempt to address any shortcomings identified?
¨ Was turnover of Cluster Coordinators within acceptable limits?
¨ Were criteria for Cluster handover met prior to disengagement?
¨ Were information services adequately managed such that (3W and commodity tracking) data was useful for gap analysis by each Cluster partner?
¨ Were methodologies and logistics arrangements for joint needs assessment put in place prior to onset of disaster?
19. Heads of UN agencies acting as CLAs should have a clause referring to these standards included in their job descriptions as outlined by agencies in a joint letter to country representatives worldwide in late 2009. Without such a measure, accountability will be fudged as no incentive exists for compliance; in fact, with reputational risks to the individual as they are, there are strong perverse incentives not to take difficult decisions – especially when the performance of Heads of CLAs is so often linked to the amount of funds raised as opposed to operational performance.
OBSERVATION 4: Cluster Coordinators are not empowered
20. With the possible exception of those 22 countries with dedicated Humanitarian Coordinators, country level heads of agencies appear largely un-aware of their altered responsibilities under the Cluster Approach. They find it difficult to delegate adequate authority to Cluster Coordinators who, because of their 'parent agency' affiliations, cannot act as truly independent 'honest brokers', progressively lose the trust of their Cluster partners as a result, and become disempowered. Many fail to distinguish between 'authority' and 'responsibility'. As a result, delegation of 'authority' to Cluster Coordinators is seen as being somehow lacking in 'accountability'. This is a management myth that needs to be addressed at the highest level, especially where so much 'accountability' has been devolved by Country Representatives, many of whom admit to having, "no experience of working with Clusters"[6]. The unintended consequence of such lack of knowledge is the tendency to "flee to the comfort zone" which means that known personalities who are trusted by Representatives, and who are "familiar with our systems and with the way we work" are selected, when neither criteria are necessarily required for coordinating Clusters.
21. It is against the spirit, if not the letter, of transparency, accountability, and partnership principles outlined in the Global Cluster Guidance Note for the Cluster Coordinator to report to the Resident and/or Humanitarian Coordinator (and the 'Humanitarian Country Team') through his or her 'parent' agency as this undermines the impartiality and independence so crucial to successful implementation of the Cluster Approach. As soon as a Cluster Coordinator is seen to be 'filtering' the Cluster message through the head of a UN agency, legitimacy dissolves and partners walk away. The same situation takes place if funding allocation decisions lack transparency and appear to favour one entity – particularly the CLA – over another. In Haiti, the third WASH Cluster Coordinator met the Humanitarian Coordinator only twice in his fourteen weeks in-country.
22. Empowerment requires the proactive engagement of other stakeholder groups. Donors, for example, disempower Clusters when they make allocative decisions outside agreed Cluster governance structures [see para 29].
OBSERVATION 5: Cluster Coordination Teams are not enabled
23. The IASC generic guidance note for Clusters dated November 2006 requests that Clusters be furnished with the required levels of support necessary to carry out their functions. The trouble is that what this 'support' entails – the operational support needed to enable the Cluster to function properly — has never been made explicit. In Haiti, the following operational support was either slow, insufficient, or non-existent:
a. Working environment: The WASH Cluster coordination team was housed in a sweltering tent where daytime temperatures hovered in the low forties centigrade until the second week of July (i.e 25 weeks after onset of disaster). Not only did this reduce the efficiency and effectiveness of the Cluster coordination team to levels below that experienced in the early days of even the Darfur operation (i.e below 40% functionality), but all other units and sections – including all 'secondary' and 'back office' functions such as communications, reporting, administration, finance etc — were housed in air-conditioned containerised accommodation well in advance of this.[Note that the author understands that conditions were not easy for anyone but that priority has to be afforded to 'operationalisation' of emergency response, including Clusters.]
b. Connectivity: The third WASH Cluster Coordinator only had regular and uninterrupted internet and intranet access in Week 26 i.e eleven weeks after arrival. Multiple requests for provision of 'Blackberry' were denied. Instead, the Cluster Coordination team had to make do with cheap mobile phones whose credit regularly expired not to be 'topped up' again for days. With an average three hours per day spent in a vehicle travelling either to/from DINEPA or visiting partners in the field, this 'down-time' had serious repercussions for efficiency and timeliness of communication.
c. Transport: The third WASH Cluster Coordinator was only on time for one (out of 26) of the (SAG, Municipal, or Plenary) coordination meetings he was co-chairing. Cars would invariably turn up late only to disappear once the passenger had been delivered, leaving expensive 'assets' stranded, sometimes for many hours.
OBSERVATION 6: Humanitarian Coordinators hardly ever meet the Cluster Coordinators
24. Too many Resident and/or Humanitarian Coordinators continue to manage emergency response through traditional UN mechanisms as if Clusters – or, rather, the collective and consensual approach which 'Clusters' embody when effectively rolled out – only partially exist. Humanitarian Coordinators should engage regularly with Clusters Coordinators and representatives of key Cross-Cutting groups through formal Inter-Cluster mechanisms. The 'Heads of Clusters' has been piloted as an inter-Cluster group in Pakistan during the 2005 earthquake response and is one successful example of where this has happened without any dilution of accountability. [However, as the Real Time Evaluation of that response highlighted, some form of Humanitarian Country team mechanism is needed to allow more strategic input from non-UN stakeholders.] The diagram below is suggested as a practical model where decision-making links are highlighted in bold and influencing links are represented with dotted lines [Note that this has no reflection on formal 'accountabilities' which are slightly different]:
OBSERVATION 7: Cluster Lead Agencies don't appear to understand that the Cluster Approach requires them to become equal 'clients' of the Cluster in programme terms
25. Independent coordination requires that Cluster Lead Agencies become equal 'clients' of the Cluster in programme terms. Field level heads of agencies fear being left with "all the difficult stuff" once Clusters phase down under the 'provider of last resort' provision within their Global Cluster Lead terms of reference.
26. This fear would be misplaced if individual agencies realised that they are a single member of the Cluster, with voice and voting rights equal to any other. As a global cluster lead agency representative which also has substantial humanitarian activities within the same sector accurately stated, "Once Clusters are activated, we become a client of the Cluster". It is the agency representative within the Cluster who works with his or her country management team to decide appropriate levels of programme engagement. In this way, Cluster Coordinators cannot expose Cluster Lead Agencies to open-ended commitments they lack the capacity to fulfil. Cluster lead agencies should have agency representation at cluster meetings separate and distinct from the Cluster Coordinator.
OBSERVATION 8: Donors don't consistently engage with Clusters
27. Donors, for the most part, do not sufficiently apply their own 13 principles of 'good humanitarian donorship' as outlined in the Paris Declaration and Oslo Accords, and continue to "cherry-pick" both projects and partners in line with their own interests and with superficial, if any, reference to Clusters. Those who 'fund the clusters' i.e. fund the cluster leads with the expectation that a transparent and inclusive decision making process will occur, need to remain engaged during this process, preferably through participation in the cluster meetings as a member or observer.
28. It is a key function of the Cluster in the field to ensure that agencies and donors resist the temptation to 'cherry-pick' the "easy options" – i.e those options which are the easiest to measure, quickest to achieve, easiest to access, have the lowest overhead, are highest in 'visibility', or that best conform to political geo-strategic objectives. Donors could support Clusters in ensuring a transparent and well documented partner selection process where funding allocation decisions are channelled through Clusters so that it's not just the CLA that reaps disproportionate benefit.
29. Donors are members of Clusters and should substantively engage as such if Clusters are to be properly empowered. The current practice of formal and informal donor meetings in the absence of Cluster Coordinators lacks transparency and is therefore somewhat antithetical to the Cluster approach.
OBSERVATION 9: Agencies are not good at timely sharing of their information
30. Many agencies appear to have forgotten that the overriding goal of the Cluster Approach, or any systemic improvement measure, is not to strengthen coordination for its own sake, but rather to improve outcomes for affected individuals and communities. It is not always evident to these individual organizations that the sharing of their information may be helping the collective effort to improve outcomes overall, often in ways that are not immediately apparent. This myopia must be addressed by the Global Humanitarian Platform, the IASC, and Donors. In Haiti, only 23 of the 52 organizations provided regular activity reports to the Cluster format, with the others requiring constant follow up. As with the Yogyakarta experience in 2006, it is estimated that the Cluster probably knew less than half of all WASH related programmes going on in the affected areas at any given moment in time.
31. Partners within the Cluster structure should no longer decide when, how, and with whom they will share their information; it is their humanitarian obligation. Donors should be encouraged to write into agreements with humanitarian partners that all relevant information collected during project implementation will be shared with the relevant Cluster.
OBSERVATION 10: Funding allocation decisions and disbursement procedures lack transparency
32. UN agency financial accountability mechanisms are designed for slow-paced development work and have restrictive disbursement and procurement rules preventing them from being efficient distributors of (pooled) funds. Flexible fund disbursement rules need to be made for CLA's, with more emphasis on process and impact accountability rather than mere financial audit ability.
33. Individual UN[7] agencies can amend their rules to allow for rapid 'pass through' funding to NGOs. They could, for example, sign framework agreements to ensure accounting procedures have been pre-vetted with key partners at as part of preparedness planning. With the exception of CERF, there is no requirement that a CLA act as the pass-through agency. If a particular UN agency can turnaround money quicker and cheaper than others, it should do so. Allocation decisions would still reside within each respective Cluster.
34. A strong distinction needs to be made between funding a cluster lead agency and 'funding a cluster'. All funding allocation decisions made in cluster meetings must be documented and disseminated. The criteria, application, and decision making process should be explicit and accesible.
OBSERVATION 11: Information management and monitoring services are partial, fragmented and under-resourced
35. Despite the considerable inroads made by agencies, the management of information for use in emergencies remains fragmented. The architecture for integrating data-sets captured through existing Government systems, and the ad-hoc systems established by Clusters when responding to emergency is usually incompatible.
36. Although the past decade has seen significant improvement in the area of information sharing and analysis within the humanitarian community, information dissemination to the affected population remains poor. Each Cluster needs to develop a communication strategy. Pooling human and financial resources to develop mass communication capacity has proved effective when applied – as has the co-locating of entire coordination teams.
37. Since Global Cluster Leads say they lack resources for dedicated information managers (or units) at country level, the 'economies of scale' argument suggests that resources should be pooled and co-located.
OBSERVATION 12: Fragmentation of Cluster trainings is leading to incoherent application in the field
38. Cluster trainings are fragmented and duplicated. Training modules have been developed by Global Cluster Leads in isolation of one another resulting in different people learning different approaches to achieve the same end. This has led to confused interpretations of how to apply the Cluster Approach in the field.
39. Principles and practices of Cluster coordination are common to all Clusters. Learning events for Cluster Coordinators can therefore use a harmonised curriculum to which specialist technical sections can be added.
40. A lack of minimum standards and field experience to be eligible for training has allowed people with inadequate experience, inappropriate leadership personalities, and insufficient technical competence to be rostered as coordinators. Training curricula have furthermore focused more on theoretical aspects of coordination management – aspects such as leadership, negotiation, principles of partnership etc – than the technical aspects of what the job actually entails. Even now, this has been a constant refrain heard from participants at the end of five day Cluster trainings[8].This is because course designers have, of their own admission, had limited exposure to field coordination realities. This situation has been exacerbated by a failure to realise that most courses are covering the same generic material, which has perversely resulted in fragmentation, different interpretations of the same guidelines, and hence confusion when the approach is ruled out by different sectors simultaneously on the ground. Perhaps the most cost-effective way of redressing these discrepancies is to re-invigorate the "mentoring " idea, where an experienced and senior coordinator acts as deputy for the first few weeks of a response, providing remote support thereafter.
OBSERVATION 13: Technical solutions don't assure quality
41. One of three essential areas where Clusters add value is the provision of appropriate and contextually relevant technical 'best practice' advice. Such advice is often difficult to find. Technical Working Groups (TWiGs) would be quicker at formulating such 'best practice' advice if Global Cluster Leads were better prepared to respond to rapid queries from the field. Currently, it is difficult for Clusters in the field to access case studies and technical advisories on such arcane subjects as, 'how best to disinfect surface water ponds with lime', 'construction diagrams for VIP latrines in high water table areas', or the best way to 'install chimney flues in thatch'. Coherent support for this common service, available 24/7, would help negate criticism that Global Clusters are detached from the day-to-day field realities.
SUMMARY OF RECOMMENDATIONS
FOR HCs
42. Ensure provision of simultaneous translation services for all Clusters and ensure all written documents are provided in the local language as well as the working UN language
43. The HC should engage with Cluster Coordinators and not just Heads of CLAs
FOR DONORS
44. Donors agree to fund only those projects that conform to Cluster strategies and engage themselves in formulating such strategies.
45. Donors must consider inclusion of all phases of the programme cycle in their funding of 'coordination' services, including lessons learning, preparedness, contingency planning, and capacity building
46. When funding a Cluster, donors must require that the subsequent criteria, application, and decision making process be explicit, transparent, and documented
FOR CLUSTER LEAD AGENCIES
47. Ensure the functions of the Cluster Coordinator are separated from programme responsibilities wherever possible.
48. Mobilise only Cluster Coordinators that are technically qualified, trained in coordination management, and accredited to the appropriate level in their respective sectors.
49. South-south skills transfer can be accelerated by mainstreaming 'mentoring' into response strategies.
50. Include Cluster performance into job descriptions of Heads of Cluster Lead Agencies.
51. Define how Cluster 'accountabilities' are to be provided in practice (through provision of Standard Operating Guidelines), then ensure Regional Directors, Country Representatives, their Deputies, Section Chiefs, Emergencies personnel, and Chiefs of Operations are oriented to these new responsibilities.
52. Where Rapid Response Teams exist (e.g in the WASH Cluster), bring these to scale.
53. Re-invigorate the "mentoring" initiative.
FOR IASC
54. Make performance standards explicit for Humanitarian Coordinators, the HCTs they chair, and the Cluster Lead Agencies that attend.
55. Institute a 'professionalization' of (Cluster) coordination as a management discipline required of all Cluster Coordinators.
56. Invite independent field practitioners to all donor and principals meetings to lend field 'reality checks' to guidance note formulation.
57. Define the optimal resources required to provide predictable and consistent high quality coordination services; then calculate the full transactional costs per Cluster; and only then work with an academic institution to conduct a full cost-utility analysis across all sectors.
FOR OCHA
58. Define Inter-Cluster accountabilities and criteria for phase-out along the lines proposed in 'Clusterwise 2'[9]
59. Source case studies of appropriate best practice for Cluster transition and phase out.
60. Work with selected Clusters (WASH, Shelter, Health, Education) to re-design Cluster training modules in light of current experience for 'type-A' coordination team members.
61. Provide simultaneous translation as a common service.
62. Allow CERF to include costs for all aspects of the Cluster life-cycle, as these contribute equally, though indirectly, to the saving of life and the rapid restoration of livelihoods.
——————————————————————————–
[1] JS-B is a senior emergencies specialist with UNICEF's Asia Pacific Shared Services Centre, and is Co-Founder of a 'community of practice' called clustercoordination.org
[2] James Shepherd-Barron was the third Cluster Coordinator and was present from 5th May – 13th August (1st CC 16th Jan – 5th March; 2nd CC 3rd March – 9th May)
[3] To sit behind their respective Representatives as advisers
[4] Joint trainings piloted by the Health, WASH and Nutrition Clusters
[5] The official language of Haiti is actually Creole, not French
[6] Meeting between Haiti CO Representative, HATIS et al, 6th August 2010
[7] In this instance 'UN agency' also refers to IOM, eligible to apply for CERF funding.
[8] The latest example directly observed by the author was at the Health Cluster Coordinator training event in Jakarta, September 2010
[9] See www.clustercoordination.org/essential reading/clusterwise 2