Too many people working in the aid business think coordination involves little more than holding meetings – of which there are too many – and posting situation reports which nobody reads because they are too long and too often list what has been delivered rather than what impact has been achieved, and what gaps remain to be addressed. The coordination fiascos of Haiti and Pakistan in 2010 surely demonstrated once and for all that managing the coordination process is a little more complicated than this….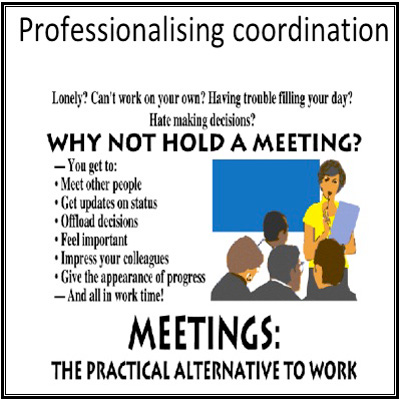 As the 'Forward' suggests, Cluster coordination is a thankless and almost impossible task, often likened to "herding cats" as it usually involves leading a group – or 'cluster' – of skeptics with strong and divergent opinions and stakes from a place they don't particularly want to be, to somewhere they don't particularly want to go, down a road they might not necessarily want to travel, alongside companions they might not necessarily trust. Being asked to be a 'provider of second resort' is just one such example (see Case Study on 'Provider of First, Second, and Last Resort').
The role demands a blend of technical knowledge, relevant experience, and 'leadership'. As I once described to Sergio di Mello in Baghdad just before he was tragically killed in the UN Canal Hotel bombing,
"(sector) coordination requires (us all) to combine the skills of magician, juggler, diplomat, chairman, conductor, chief negotiator, information manager, communications officer, team leader, finance officer, and scout … and all the while trying to embrace cultural diversity knowing that half the room won't understand your jokes – some will even be offended by them – and you are speaking to the other half in their second or third language."
When it comes to inter-Cluster coordination, it is also important to realize that all Clusters are not equal. The activities and priorities of Clusters are significantly different. 'Operational' clusters, particularly those that are dominated by the need to plan for service delivery at the level of the household or individual, such as Logistics, Health, WASH, and Shelter often have larger numbers of agencies, involve massive coordination of information and material delivery assistance, and have more money to manage. Social welfare and cross cutting Clusters, such as Education, Protection, Nutrition and Early Recovery, often have fewer actors, less demand for the issues described above, a much broader and more diverse scope in the variety of programming which in turn demands a different type of coordination support. This means inter-cluster decision making needs to reflect these operational realities by affording them more time to discuss their positions relative to one another and more 'weight' when it comes to resource allocation.
More formally, coordination is a service function that creates an enabling environment for organizations working in and across sectoral areas of work. It does this through facilitation of a consensus management process on behalf of all stakeholders.
The IASC Real Time Evaluation of 2006 assessed the Clusters as having, "successfully provided a single and recognizable framework for coordination, collaboration, decision-making, and practical solutions in a chaotic operational environment." As someone who was involved at the time, this sounds about right and appears to be a neat encapsulation of what Clusters are all about.
The purpose of coordination is to save lives and reduce suffering more efficiently and more effectively by timely allocation of appropriate resources to the most vulnerable.
Incoherent and un-cooperative planning by actors engaged in humanitarian response minimises the benefits and maximises the potential pitfalls of that response. Similarly, weak coordination diminishes the potential of those affected by disaster to achieve their rights to protection and assistance.