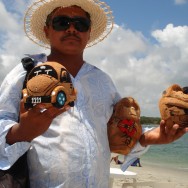 The private sector is getting more engaged in large-scale humanitarian responses.  The term 'private sector' itself covers an enormous group of organizations and companies and an astute cluster coordinator should understand their varied interests.  Don't forget the 80/20 rule, however.  Engage the big ones or, even better, the structures which coordinate assistance coming from different private sector groups.  These structures could be a Chamber of Commerce, the local Rotary clubs, or a traditional donor which hires the private sector to deliver humanitarian assistance.   If your Cluster demonstrates value then you will not have to chase the private sector; they will be chasing you!
The term 'private sector' can mean:
A multi-national corporation which provides money or other resources most likely through a partner
A local company which is contributing financially or with in-kind products often by themselves or with a local partner
A local or international company contracted or seeking to be contracted to perform some task.
Unfortunately, it is the latter group, characterized as often having a solution looking for a problem, which generates an anti-private sector attitude throughout much of the humanitarian world. This attitude is wrong.
If you are able to identify what in-kind items are being provided by the private sector then you can track those contributions.  One major issue faced by the Cluster system is that there are very significant contributions from organizations which operate outside of the tentacles of our information management systems.  It is to your credit, and will increase the credibility of your Cluster if you can systemically gather data about contributions which fall outside of the appeal and/or outside of the traditional membership.
Some corporations will give cash. This is usually not earmarked. If you know which organizations received it and can influence their decision making then you may be able to pilot some innovative projects which ordinarily would not be funded.
The private sector will seek to conduct business during the relief and recovery process.  Business is their business, after all. But we should recognize that it is the private sector which will ultimately drive the speed of recovery, and not our cash for work programmes.  Have a forum with a 'no endorsement' policy on your website where the private sector can exchange ideas and present various products.  It is better to provide a venue to which you can predictably direct them instead of having to repeat the same conversation over and over.
Try and think creatively about how to engage them.  Look through your list of capacity gaps currently being faced (normally a fairly long list…) and see if there is a match which a particular sector.  Reach out through the local Chamber or Rotary club and see if a connection can be made.