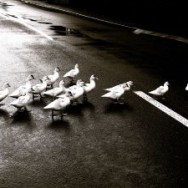 Donald Trump, that icon of corporate America and one-time Presidential candidate, thinks that successful business leaders display character traits best described as, "charming but sometimes arrogant, even obnoxious". I have been called all of these in my time; the latter by an Inter-Cluster Coordinator in front of everybody during a meeting. I took it as a compliment. Rather like getting PNG'd from Sudan … I must have been doing something right ?!
Successful application of the cluster approach will depend on all humanitarian actors working as equal partners in all aspects of the humanitarian response. To be successful, therefore, sectoral groups must function in ways that respect the roles, responsibilities and mandates of different humanitarian organizations.
While the Cluster approach encourages strong partnerships and joint planning amongst humanitarian actors, it is up to individual agencies to determine their level of participation. To maximize efficiency and effectiveness, Cluster Leads must strive to involve all humanitarian actors in a collaborative and inclusive process focused on areas of common interest. Such 'leadership' requires a shift in mindset and practice from a directive to a collaborative approach. Collaborative leaders create an enabling environment for participation, problem-solving and decision-making whereby cluster participants share responsibility and feel ownership for collective outcomes. A collaborative leader focuses on, and will draw cluster members' attention to, those concerns, interests, activities and/or desired outcomes that they share and which can't be addressed effectively, nor satisfactorily, through independent action. To promote collaboration, Cluster Coordinators will need to:
adopt a collaborative mindset
be inclusive and communicate openly with all key humanitarian actors
establish a way for the group to arrive at practical solutions and decisions
lead the group process, but refrain from overt direction
create different ways and levels for all Cluster participants to be involved
facilitate networking, information sharing and relationship-building among Cluster members
build & communicate a group identity, joint purpose or vision of what's possible together
provide added-valued support and services to Cluster participants
maintain neutrality and encourage mutual accountability by focusing on problem solving, airing of differences and learning from experiences rather than on a destructive practice of "fault finding", "criticising" and "blaming" each other for underperformance
use consensus management for joint strategy setting, decision-making, and problem-solving
Operational humanitarian leadership means providing a clear vision and set of objectives for emergency response, and building consensus around these to enable collective delivery against these for the benefit of the affected population, often in challenging, hostile, and information-poor environments.
"Leadership of clusters requires a shift in mindset and practice from directive leadership to a more collaborative approach"
Hailey's literature review on NGO leadership in 2006 acknowledges an overall concern about the 'leadership deficit' that exists within the humanitarian system. Alan Keith of Genentech states that, "leadership is ultimately about creating a way for people to contribute to making something extraordinary happen." A more formal way of saying this in aid-speak is, "effective leadership is the ability of an individual to successfully integrate and maximize available internal and external resources for the attainment of organizational and/or societal goals." In the Cluster Approach, the Coordinator is supposedly the 'leader'. Such is the nature of the humanitarian enterprise that this hapless Coordinator has no formal authority to actually 'lead'. In fact, some UN agencies actually expect their staff to, "lead from behind" …. whatever that means … and try to make a virtue out of such nonsense.
In his seminal work on the subject of leadership in 1841, Francis Galton identified the talents, skills, and physical characteristics of men who rose to power and concluded that leadership was inherited. In other words, leaders were born, not developed. By the early 'fifties, however, researchers such as Stogdill and Mann took a drastically different view which suggested that leaders in one situation may not necessarily be leaders in other situations. Meta-analyses in the 'eighties went further still and concluded that many supposed leadership attributes, all of which were interacting with inherited character traits, were in fact learned. These are some of the character traits of an effective humanitarian leader as defined by McClelland and others at the time:
Charisma
Intellectual as well as emotional intelligence
Appropriate technical knowledge
Openness to relevant experience of others
Adaptability
Persistence
Integrity
Self-confidence / high self-esteem / extraversion
Self-starting
Problem-solving ability
"Coordinating Clusters is not a popularity contest … as in life, losing your fear of being disliked is the key to success".
The complex and multiple interactions that together comprise leadership are a function of style and performance. The famous behaviourist, Skinner, proposes three 'styles:
Authoritarian: Characterized by leaders who take decisions alone, demand strict compliance with instructions, and dictate and micro-manage each step taken. The leader is not necessarily hostile but remains aloof from participation although (s)he offers praise or criticism for the work done. This style is approved of in periods of crisis but fails to win 'hearts and minds' of group members in day-to-day management. Such leaders tend not to entertain suggestions or initiatives from subordinates or group members. But, at the same time, it permits rapid decision-making.
Democratic: Characterized by collective decision-making processes assisted by the leader. Before accomplishing tasks, perspectives are elicited through group discussion, with additional technical input from a respected source, not necessarily the leader. Members are given choices and collectively decide the division of labour. The democratic style is better suited to situations that require consensus building.
Laissez-faire: Freedom is given to the group to determine policy, with only facilitation provided by the leader who remains mostly uninvolved in work decisions unless asked, does not participate directly in division of labour (although ensuring tasks are properly delegated), and infrequently gives praise. The laissez-faire style is appreciated for the amount of freedom it provides but, as the leader is "not seen to take charge" (s)he is often perceived as a failure in protracted or difficult organizational problem-solving situations. Different situations call for different leadership styles. In an emergency, when there is little time to converge on an agreement and where a designated authority has significantly more experience or expertise than the rest of the group, an autocratic style may be the most effective – at least in the early stages of response planning and implementation. However, in a highly motivated and aligned group with a homogeneous level of expertise, a more democratic or laisser-faire style might be more effective. The style adopted should be the one that most effectively achieves the objectives of the group while balancing the interests and capacities of its individual members.
The situational leadership model proposed by Hersey and Blanchard suggests four leadership style and four matching levels of follower development. In this model, leadership behaviour becomes a function not only of the characteristics of the leader, but of the characteristics of the followers as well. Functional leadership theory, however, is a particularly useful theory for addressing specific leader behaviours expected to contribute to group effectiveness. This theory argues that the leader's main job is to ensure that whatever is necessary to group needs is taken care of. Such a leader can be said to have done their job well when they have contributed to group effectiveness by efficient and effective application of process. Yet it is functional leadership theory that is applied most often when discussing team-building where the leader is focused specifically on task accomplishment. Such a role includes clarification of objectives for subordinates, the setting of performance standards, and holding individual group members to account to those standards. The transactional leader (Burns, 1978) is delegated the power to perform certain tasks, and is rewarded or punished for the group's performance. The opportunity is given to the leader by the group members as well as the CLA to lead the group, and the group agrees to follow his or her lead in accomplishing a predetermined goal in exchange for something else. Usually, power is given to such a leader to evaluate subordinates and reward effectiveness when the expected outcome is reached. Such power structures and reward systems do not exist in the humanitarian world, however. Perhaps, in order to foster genuine accountability, they should? The transformational leader motivates his or her group to be effective and efficient. Communication is the basis for goal attainment, focusing the group on the desired final outcome. This leader is highly visible and relies on chain of command to get the job done. Transformational leaders focus on the big picture and need to be surrounded by people who can take care of the details. Unfortunately, the humanitarian system will not embrace 'command and control' as a management model, and having people in the Cluster coordination team to whom specific tasks are delegated is somehow seen as an unnecessary additional transaction cost. The Cluster Approach demands transformational leadership but is not set up to enable it.
LEAD A TEAM
What is more important, leadership or teamwork?  Command and control as practiced by the military, or consensus management?  Although both teamwork and consensus-building are critical skills in a leader, neither are substitutes for capable leadership itself. As discussed briefly above, leadership provides the oversight, guidance and governance necessary to direct a group a people in the successful attainment of a shared vision. Contrary to popular belief, consensus is no guarantee of optimal decision-making.  In fact, just the opposite sometimes ensues with the 'race to the bottom of the barrel' that results ensuring that the lowest common denominator is often the best that can be achieved.
Effective leaders understand the value of collaboration, and they actively and continuously seek to develop avenues of collaboration.  One of the methods by which highly effective and successful leaders encourage and foster collaboration is through building cooperative networks, both within and outside the organization. The best way to do this is ask your peers for their advice as this empowers, rather than diminishes, leadership. There are three primary characteristics of a team:
There must be an awareness of unity on the part of all its members.
There must be interpersonal relationship. Members must have a chance to contribute, learn from, and work with others.
Each member must have the willingness and ability to act towards achieving a common goal.
There are ten characteristics of well functioning teams:
1.     Purpose: Members proudly share a sense of why the team exists and are invested in accomplishing its missions and goals.
2.     Priorities: Members know what needs to be done next, by whom, and by when to achieve team goals.
3.     Roles: Members know their roles in getting tasks done and when to allow a more skillful member to take on a certain task.
4.     Decisions: Authority and decision-making lines are clearly articulated, understood, and agreed.
5.     Conflict: Conflict is dealt with openly and is considered important to decision-making and personal growth. It is not a threat.
6.     Personal Traits: Members feel their unique personalities are appreciated and well utilized.
7.     Norms: Group norms for working together are set and seen as standards for everyone in the group.
8.     Effectiveness: Members finds team meetings efficient and productive, and look forward to this time together.
9.     Success: Members know clearly when the team has met with success and share in this equally and with pride.
10.  Training: Opportunities for feedback and upgrading of skills are provided and taken advantage of by team members.
For further information see: ALNAP Leadership Study, July 2010 and the annexed article


This is is a section from Clusterwise 2. Reproduction is encouraged. It would be nice if the author, James Shepherd-Barron, and clustercoordination.org were acknowledged when doing so.
http://james.shepherd-barron.com/clusterwise-2/31-leadership/